If you are a Samsung smartphone user, you might have used its official note-taking app, Samsung Notes. You can install the app easily from Google Play Store or Samsung Galaxy Store. Samsung Notes offers users the ability to create notes while on the go. It also offers formatting options, such as bolding, italics, underlining, adding bullets, and more. Microsoft OneNote is another note-taking app that comes with a lot of advanced features. Did you know that you can view all your Samsung notes in Microsoft OneNote? This post is about how to sync Samsung Notes with Microsoft OneNote.
How to sync Samsung Notes with Microsoft OneNote
The following steps will guide you on how to sync Samsung Notes with Microsoft OneNote.
Launch Samsung Notes on your Samsung smartphone.
You will see three horizontal lines in the upper left corner. Tap on it.
Now tap on the gear icon. This will open the Samsung Notes Settings.
Here you will see two options, Synchronization with Samsung Cloud and Sync with Microsoft OneNote. Press it.
After that, press the To start option.
Now you will be prompted to sign in to your Microsoft account.
Once the connection is successful, Samsung Notes will show you all the folders you have created.
You can select which folders you want to sync with Microsoft OneNote.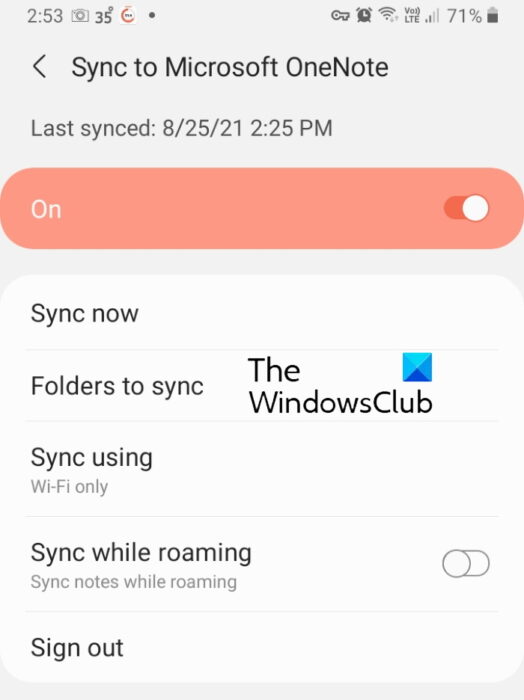 You will get several sync options in Samsung Notes like Sync now, Sync using mobile data or WiFi only, etc. You can select the synchronization options as per your choice.
How to view Samsung Notes in Microsoft OneNote
You can view all synchronized folders in the OneNote feed. For now, the OneNote feed is available in the following Microsoft Office apps:
Outlook on the web
OneNote for the web
OneNote for Windows 10
OneNote desktop app
When you open any of the apps mentioned above, you'll see a OneNote feed at the top right of the interface. Click on it to view your Samsung Notes. See the screenshot below. By default, the OneNote feed displays all of your notes, including OneNote, Samsung Notes, and Sticky Notes pages. You can apply a filter to show only Samsung Notes.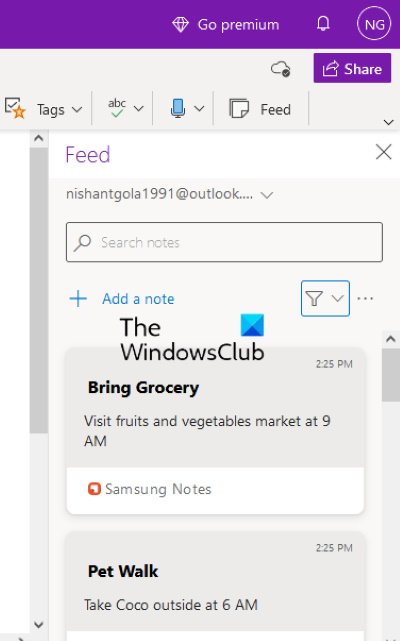 Why are my Samsung notes not syncing?
You may experience sync issues with Samsung Notes if you try to connect it with Samsung Cloud or Microsoft OneNote. When you don't see your Samsung Notes in Microsoft OneNote, the first thing you need to check is whether or not you are signed in to the OneNote app with the same Microsoft account that you used in Samsung Notes. If you are using the same Microsoft account, there may be a problem with your internet connection.
If you have trouble syncing while connecting Samsung Notes with Samsung Cloud, you can try to clear data from Samsung cloud and then sync again.
Synchronization issues also occur due to unstable internet connection. Therefore, make sure you have a stable internet connection.
How do I sync OneNote across multiple devices?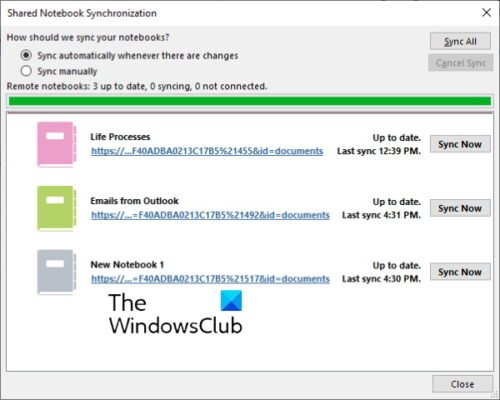 To sync all of your OneNote notebooks across different devices, you must use the same Microsoft account. Open OneNote and click the To file menu. There you will see a View synchronization status button. Click on it. Now select the notebook that you want to sync to another computer and click on the Sync now button.
You can also configure OneNote to sync automatically or manually. Auto-sync is always the best option to choose because every time you make a change to your notebooks, OneNote will automatically sync it with other devices.
Read more: How to rotate and crop an image in Microsoft OneNote.