It is common for oil to become an "orphan asset", its use would cease and it would become an obsolete energy source. This is due to massive efforts to stop "climate change" caused by human CO2 emissions. THE The goal of so many changes to achieve "Net Zero" is to end the use of hydrocarbons.
The end of oil will not happen and the implications are enormous.
Let's start with why
According to the IEA, the International Energy Agency:
"China, India and Southeast Asian countries together are expected to account for three out of every four tonnes of coal consumed globally in 2023."
From the article: "Global coal demand is expected to remain at record levels in 2023."
The IEA is not a paying NGO, it is a global institution.
This implication is obvious; Developing countries are not going to crucify themselves on the issue of sustainability. After all these years of agreements, dramatic predictions, plans and – in the developed world – giant policy changes, developing countries have embraced cheap energy with both hands as a guarantee of their ascendancy.
It is difficult not to be impartial in the face of this situation, but the magnitude of the facts speaks for itself.
As oil is a "less worse" source of CO2 than dirty, or even very dirty, coal, oil has no chance of becoming an "orphan" energy source. As developing countries develop (and they will do so at a spectacular rate), their thirst for energy will also increase. With these countries' GDP per capita being only a fraction of their potential, their energy needs are also only a fraction of what they will be, and these needs will grow along with their economies. Fortunately for them – and unfortunately for "Net Zero" projects – there is no shortage of coal and probably never will be, enough has already been found to last half a millennium.
That means, at the very least, oil is still business as usual, which probably means $300 a barrel.
This idea turned out to be quite poignant, because the idea of ​​oil at these levels makes us aware of the price of gasoline at the pump, and it seems like a crazy prediction that we see so often on the web.
This is not a crazy prediction
Take a look at this chart of oil history over the past decade: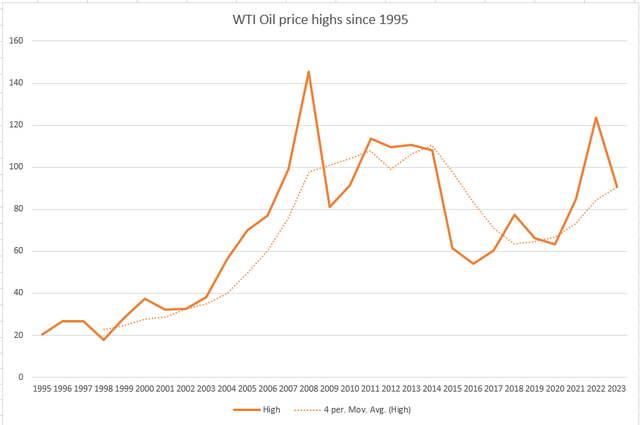 The simplest way to look at this chart is to see that for a six-year period (2008-2014), over a four-year average, oil was at or above $100 per barrel.
When you adjust for inflation for recent years you get this: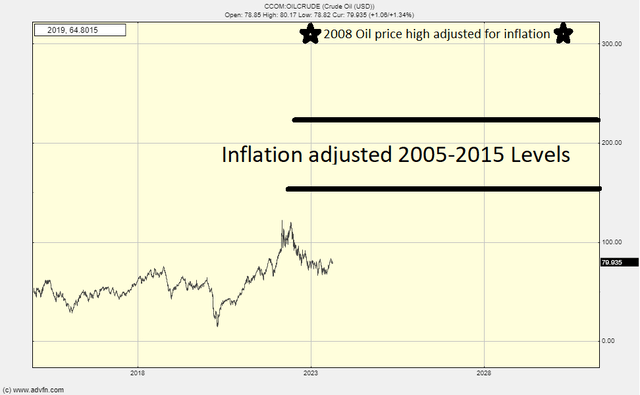 The $300 per barrel figure comes from the 2008 high and average energy inflation over the past 60 years in the United States. You can also add continuing inflation over the next two or three years for good measure, but let's not worry about the exact number. The period is three to five years.
Once you have decided that fossil fuel consumption will not decrease, then all you need to do is factor in the inflation already entrenched in the global economy and the oil trade will be much higher than it is today.
Investors therefore have a simple choice to make: write off oil or take into account the impact of inflation in the price (as must be done for any commodity in the long term), then position themselves accordingly. . For me, it's the latter; the fact that this is not generally understood highlights the potential for investors. Futures traders will have no problem trading this with all the fun and games available with highly leveraged contracts, but for the more conservative among us, sitting on Exxon (XOM) or Chevron (NYSE: CVX) or the cheaper overseas listed companies Shell (SHEL), BP (BP) and Total (TTE) – all of which I own – is not a difficult theme to get into without playing around with corporate risks below giant status. .
In the past, the market was trusted to solve problems and when the price of hydrocarbon energy exceeds the falling cost of sustainable energy, coal and oil will become niche products.
I'm happy to emphasize the first, work on the second and invest accordingly.