FILE – In this March 24, 2016 file photo, members of The Rolling Stones, from left, Mick Jagger, Charlie Watts, Keith Richards and Ron Wood pose for photos from their plane at Jose Marti international airport in Havana, Cuba. The Rolling Stones are threatening U.S. President Donald Trump with legal action for using their songs at his reelection campaign rallies despite cease-and-desist directives, according to a statement issued by the band Sunday June 28, 2020. (AP Photo/Ramon Espinosa File)
The Rolling Stones
are threatening President Donald Trump with legal action for using their songs at his rallies despite cease-and-desist directives. The Stones said in a statement Sunday that their legal team is working with music rights organization BMI to stop use of their material in Trump's reelection campaign. "The BMI have notified the Trump campaign on behalf of the Stones that the unauthorized use of their songs will constitute a breach of its licensing agreement," the Stones said. "If Donald Trump disregards the exclusion and persists, then he would face a lawsuit for breaking the embargo and playing music that has not been licensed." The Trump campaign team didn't immediately respond to an email seeking comment. The Stones had complained during Trump's 2016 campaign about the use of their music to fire up his conservative base at rallies. The Rolling Stones' 1969 classic "You Can't Always Get What You Want" was a popular song for his events. It was played again at the close of Trump's recent rally in Tulsa. The music rights organization BMI provides licenses for venues to play a broad array of music and has a catalog of more than 15 million songs that can be played at political events. Artists can opt out of having their music played at political events, and a BMI statement says the Stones have done that. BMI has informed the Trump campaign that if it plays Stones music again at an event, it will be in breach of its licensing agreement, the statement said.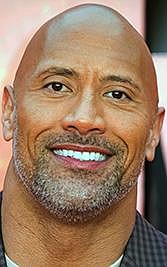 Photo by
Invision
FILE – In this April 11, 2018, file photo, actor Dwayne Johnson poses for photographers at the premiere of the "Rampage," in London. Johnson will host and Justin Bieber, Miley Cyrus and Jennifer Hudson will perform on a globally broadcast concert calling on world leaders to make coronavirus tests and treatment available and equitable for all. The advocacy organization Global Citizen and the European Commission announced Monday, June 22, 2020 that Global Goal: Unite for Our Future — The Concert will air on June 27. (Photo by Vianney Le Caer/Invision/AP, File)
A summit that included a star-studded virtual concert hosted by Dwayne Johnson has raised nearly $7 billion in cash and loan guarantees to assist the poor around the globe whose lives have been upended by the coronavirus pandemic. Global Citizen said its summit with world leaders had raised $1.5 billion to help covid-19 efforts in poor countries, along with a promise of 250 million doses of a vaccine for those nations if one is successfully developed. The group said it had secured $5.4 billion in loans and guarantees from the European Commission and the European Investment Bank to support fragile economies worldwide. The event included a Johnson-hosted concert with performances by Jennifer Hudson, Miley Cyrus, Coldplay and Chloe x Halle. Cyrus performed The Beatles' "Help!" in an empty stadium and Hudson performed "Where Peaceful Waters Flow" from a boat in Chicago. "The $6.9 billion that was pledged today to support the world's poorest and most marginalized communities is an incredible next step on our journey out of the COVID-19 era, but there is more still to be done, as no one is safe until everyone is safe," Hugh Evans, CEO of Global Citizen, said after the event Saturday.
Print Headline: Names and Faces
Sponsor Content
Comments