Ah, the joys of pregnancy: satisfy all your nesting desires by decorating the nursery, partying with friends and family and choosing baby names with your partner.
Listen to the latest episodes of The Ellen DeGeneres Show for free on 9Now.
Unfortunately for Lavi Mounga, she was unable to indulge in any of these little pleasures before giving birth to her fourth child, as she didn't even know she was pregnant and found herself giving birth to her. new baby on a flight to Hawaii.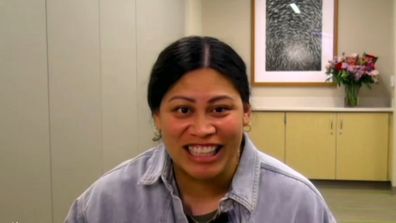 Talk on The Ellen DeGeneres Show to a stunned DeGeneres, the celebrity talk show host was mesmerized by Mounga's experience and wanted to know exactly what it looked like.
RELATED: Ellie Kemper impresses Ellen with hilarious British accent
"At the airport, I felt a little sick, just my stomach," Mounga explained. "But then I got on the plane and I just couldn't settle down to fall asleep. I got up, I had cramps, I went to the bathroom."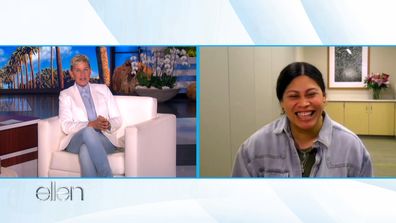 "I was in there for a while and my water broke. I didn't know then, but I know now. I passed out for a while, and when I woke up there was a baby there, "she recalls. DeGeneres' eyes widened at the factual conclusion of the story.
RELATED: Oprah Winfrey reveals why she's afraid to drive
But despite the initial shock, Mounga was thrilled with the surprise addition to the family.
"Just like the best surprise and shock of my life," the new mom told DeGeneres.
Luckily, there were a large number of NICU medics and nurses aboard the flight to help the little boy, named Raymond, give birth safely.
RELATED: Ellen DeGeneres talks to Oprah Winfrey about her decision to end the talk show
Dr Dale Glenn and NICU nurses Lani Bamfield, Amanda Beeding, Mimi Ho and medical assistant Lindsay Maughan joined the interview via a video link, sending Mounga into a fit of emotion as she immediately burst into tears.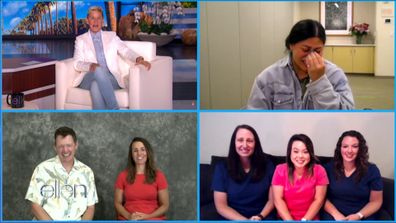 Maughan was the first to speak, describing how she initially noticed someone needed help.
"I just heard someone scream" medical, medical! "I jumped out of my seat and ran to the bathroom. It was her sister-in-law standing outside and she said, 'She just gave birth,'" Maughan recalls. .
RELATED: Ellen DeGeneres to end her talk show in 2022
"I opened the door and there was Lavi holding her little baby. Within seconds Lani was there and she said, 'We are nurses from the NICU.' And I thought, "Oh well, we're going to be alright. We've got this." And we got down to business. "
NICU nurse Lani Bamfield said she immediately got involved by taking her blanket and rubbing baby Raymond to stimulate him.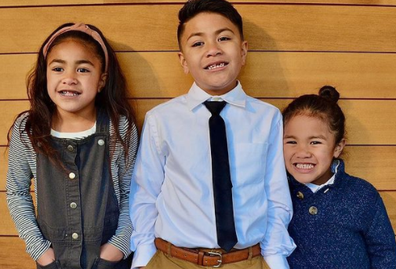 "We're NICU nurses, that's what we do in a hospital during a regular birth. Not on an airplane normally," Bamfield explained.
RELATED: The best of Ellen DeGeneres scares off her famous guests
"So we started to stimulate him, then Mimi and Amanda were right behind me and they were like, 'Are you okay?' and I'm like, 'No, there's a baby and he's little.' So they came back and we were able to use a little bag to cut the drawstring, and Amanda took over with mum and we brought baby Raymond down to the floor to go to work. "
Shortly after birth, however, baby Raymond "was not breathing well," according to Dr. Glenn, who arrived shortly after giving birth.
"He was a very small baby, weighing less than three pounds. He had difficulty breathing and his color was a little dark."
RELATED: Pink reveals why her daughter 'doesn't care' about her international musical success
Passenger Julia Hansen, filmed the moments after the baby's birth from her seat on the plane and posted it on TikTok.
At the start of the clip, she whispers, "A baby was just born on this plane" before walking over to her friend next to her who is shaking her head in disbelief.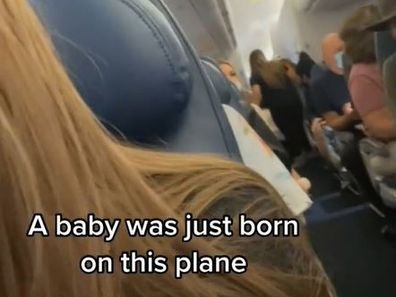 She then picks up the announcement over the plane's intercom, saying, "As most of you have probably heard, we just gave birth on the plane. Nice round of applause for the mother.
Fortunately, all of the medical professionals were able to get mum and son safely back to solid ground and to the nearest hospital, where they both left unharmed to begin life together.
Congratulations Lavi!
The Ellen DeGeneres Show airs weekdays at 12:00 p.m. on Nine. Catch up latest episodes on 9Now.