By Mark Savage
BBC Music Correspondent
LadBaby is aiming for a fourth UK Christmas record number in a row – with help from Ed Sheeran and Elton John.
YouTube stars Mark and Roxanne Hoyle have been fundraising for the Trussell Trust food bank with their sausage-themed singles since 2018.
This year's attempt is a cheeky version of Ed and Elton's Merry Christmas, called Sausage Rolls For Everyone.
LadBaby could overtake the Spice Girls and The Beatles as the most consecutive Christmas number one.
The Beatles had three in a row in the 1960s and the Spice Girls achieved the same feat in the 90s, with LadBaby tying the record in the past three years.
Sheeran was the last artist before the Nottinghamshire couple to have a festive number one, with their love song Perfect in 2017.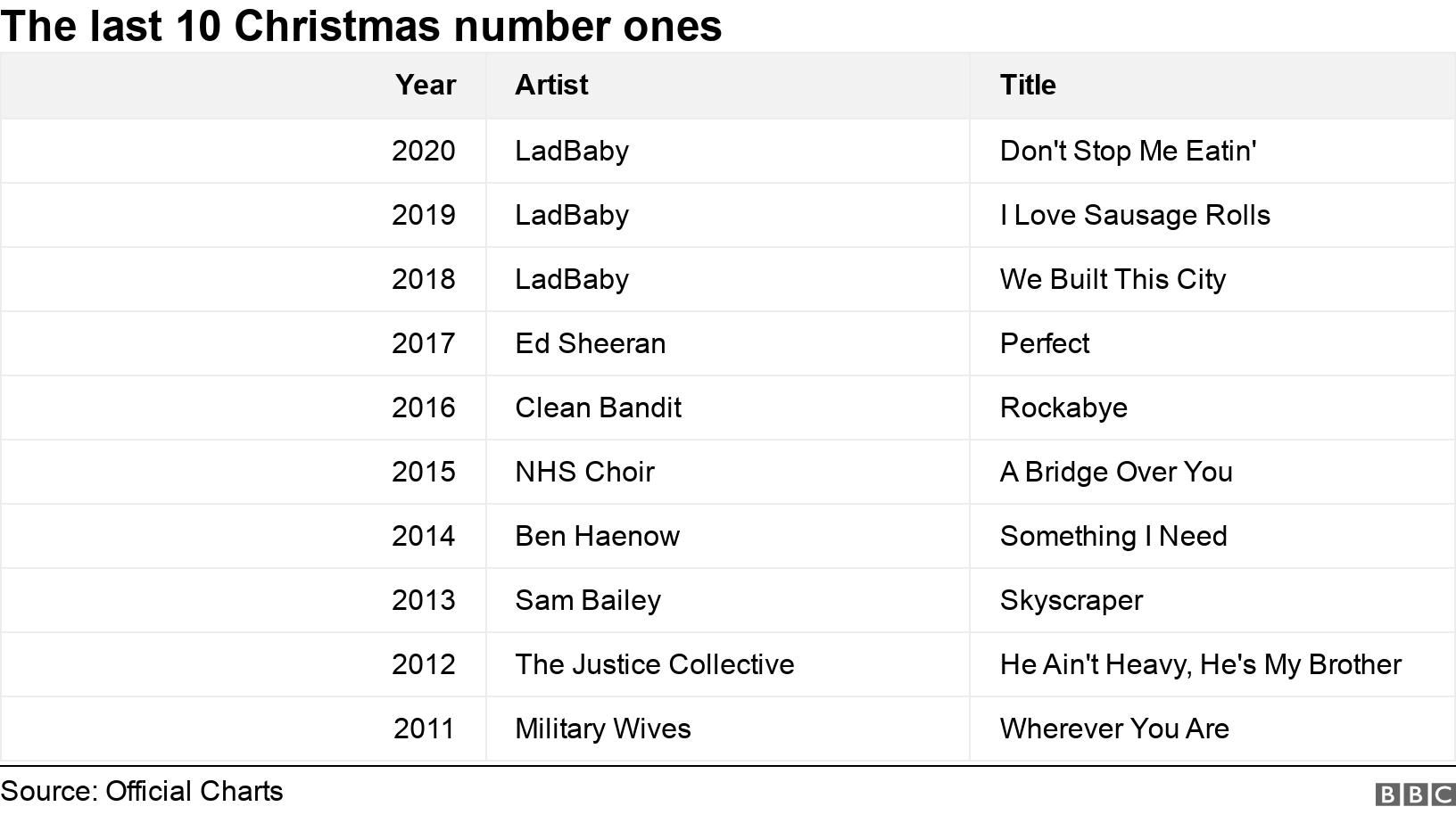 The star said he was "proud" to support and feature on LadBaby's single this Christmas.
"All proceeds will go to The Trussell Trust which is a very wonderful and important charity, so be sure to stream it, buy it and play it on repeat," Sheeran said.
In a statement, Hoyle said, "Ed and Elton are kings of pop and they both had huge success over Christmas, so we are honored and thrilled to come together to help families this Christmas… with the power of sausage rolls. "
Profits from Ed and Elton's original song are also donated to charity, split between the Ed Sheeran Suffolk Music Foundation and the Elton John Aids Foundation.
But the stars face stiff competition this year, with Gary Barlow, Abba and Adele all vying for the festive list; and eternal favorites of Mariah Carey and Wham! already in the top 10.
Here is a guide for all contenders.
Ed Sheeran and Elton John – Merry Christmas
No cliché is left out in this garishly decorated ode to gathering around the tree and kissing under the mistletoe.
The video pays homage to dozens of Christmas classics from yesteryear, recreating scenes from Last Christmas, Walking in the Air, Stay Another Day and the David Bowie / Bing Crosby Little Drummer Boy duo.
Released last Friday, it amassed 46,265 sales in its first five days and is almost certain to top this week's Top 40. But can he withstand the onslaught of LadBaby's sausage roll? The proof is in the Christmas pudding.
LadBaby, Ed Sheeran and Elton John – Sausage Rolls for Everyone
As above, but with a laminated coating.
Mariah Carey – All I Want For Christmas Is You
She's been asking for 27 years, but Mariah Carey still doesn't have you in her stockings (oh shhh).
But what she does have is the chart equivalent of Coca-Cola's "Holidays are coming" jingle. Christmas doesn't really begin until her ornate tonsils appear on the radio.
A perennial presence in the Christmas top 10, it reached number one for the first time last year, only to be dropped off by LadBaby before the big day. It's already in the top three this year, although ranking rules dictate that old songs have their number of streams halved when calculating the top 40.
There is too much competition for her to reach the top this year. However, she is almost guaranteed to be in the top five.
The Lathums – Krampus
Earlier this year, Wigan's band The Lathums beat Drake at No. 1 with their debut album, How Beautiful Life Can Be. Now, they hope to mark a similar upheaval on the Christmas charts with their festive offering.
Technically an anti-Christmas song, it takes place at the end of the world, with singer Alex Moore singing: "Santa Claus is not coming this year / Your Christmas will be canceled anyway."
Based on an episode of the BBC comedy series Two Inside No. 9, the blackness of its lyrics is offset by a mix of Merseybeat.
If you like your Christmas pudding with a dose of salt, this is the one for you.
Gary Barlow & Sheridan Smith – How Christmas Is Meant To Be
In 1993, Take That had Christmas number one stolen by Mr. Blobby. Now Gary Barlow is back with a whole album of Christmas carols called The Dream Of Christmas.
The lead single is How Christmas Is Supposed To Be – a duet with Sheridan Smith, who finds them swapping beards ("I gave all that I have / You gave me nothing") as they decorate the Christmas tree. It's not a New York fairy tale, but your mom will love it.
Adele – Easy on me
Adele's comeback single has been at the top of the charts for seven weeks, facing heavyweight competition from Ed Sheeran, Taylor Swift and Dua Lipa.
With album streams in full swing, the track could hold up for Christmas – but some oddity in the chart rules could make that more difficult.
In order to keep old songs from crowding the top 40, compilers have a rule called "accelerated decline," which says if a song's sales decline for three consecutive weeks, it takes 300 streams to count as one " sale ", instead of the usual 150: 1 ratio.
Easy On Me sales fell from 100,627 to 69,372 last week. If the trend continues, Adele will experience an accelerated decline just in time for the Christmas chart.
Even without that penalty, his current sales fall short of the 157,733 LadBaby singles sold in Christmas week last year, so his odds seem slim.
George Ezra – Come Home for Christmas
Amazon Music has been ordering new Christmas songs for a few years now, adding them to their festive playlists and staging sneak attacks on the top 40.
The Tactic has already produced a number one single, in Ellie Goulding's 2019 cover of Joni Mitchell's River. This year, George Ezra recorded a new version of Come On Home For Christmas by Charles Brown.
Recorded in September, while wearing a Santa outfit, Ezra said the song's message struck a chord following the tribulations of 2020.
"Last year was the first Christmas I have experienced where, completely out of anyone's control, we couldn't see the people we were hoping to see. I think that's something that resonated over there. the choice of song. "
Come On Home For Christmas is set to enter the top 10 for the first time this week.
Abba – Small things
Until this year, Abba's only Christmas recording was a brief greeting on a Smash Hits flexidisc titled Happy Christmas From The Stars, in 1982.
That changed when they came out of retirement in September to announce Voyage, their first album in 39 years.
The third track is Little Things, a sweet ode to waking up early on Christmas morning while waiting for the kids to open their stockings.
Despite the presence of recorders, glockenspiels and a children's choir, Benny Andersson didn't initially consider the melody for a Christmas song, said co-writer Bjorn Ulvaeus.
"But the minute I heard it, I said it couldn't be anything else. It's early, early Christmas morning. The stockings are hanging there and then this couple wakes up."
Gypsy Pistoleros – Livin La Vida Loca (Anthem of the World)
Gypsy Pistoleros are essentially the flamenco version of Kiss – a sleazy glam-rock band wearing Day of the Dead makeup.
Their number one Christmas deal is a retread from Livin 'La Vida Loca that swaps the exhilaration of the original camp for dreary pub group shots.
The song's most redeeming quality is that the proceeds go to Shelter Housing and Charity for the Homeless.
A first ad campaign helped him gain favorable ratings, but with the video attracting only 20,000 views in a month, his rankings slipped.
Andy & The Odd Socks – Merry Christmas Everyone
Children In Need Christmas's very first single is courtesy of CBeebies longest-serving presenter Andy Day and his band The Odd Socks.
The story goes that "Pudsey himself challenged the band, asking them to come up with a catchy Christmas single that will raise funds for the appeal."
They opted for a cover of Shakin 'Stevens' classic Merry Christmas Everyone. Shakey himself makes an appearance after finding out what's behind the green door (from his advent calendar).