The recently opened International African American Museum (IAAM) pays homage to the difficult and often overlooked stories of the African American journey. It is located in Charleston, South Carolina on Gadsden's Wharf, one of America's most sacred international slave trading ports. IAAM uses technology, including from Sony, to combine storytelling and storytelling while providing increased engagement, communication and education.
With support from Sony's Global Social Justice Fund – which advocates for social justice and anti-racism initiatives and promotes diversity, equity and inclusion around the world – Sony technologies helped IAAM visitors s immerse yourself in history and bring artifacts to life. Some of these included Crystal LED direct-view displays, 4K HDR BRAVIA professional displays, 4K SXRD and 1080p laser projectors, and professional wireless audio and mics.
According to Sony, the technology also serves to expand on the stories presented in the museum, which aims to help heal and facilitate a broader dialogue about our cultures and our past.
Design an interactive and multiplatform experience
IAAM therefore deliberately designed and programmed an interactive, cross-platform experience for today's digital natives, who have a high level of technology and a desire to connect with stories in a multifaceted and multisensory way – at the inside and outside the establishment. The museum also sought technology that would amplify experiences of African American travel in ways that would deepen the narrative and provide additional levels of connection, immersion, and reality.
Tonya M. Matthews, President and CEO of IAAM, says, "Any good museum will focus on stories and storytelling. I think for an African American history museum in particular, there's an added weight and an added excitement when African Americans tell their own story, because for so long, that wasn't what we saw in museums. I'm very excited about how the museum uses technology to activate and enhance these stories. This is an integral part of IAAM's identity.
As Malika Pryor, Head of Learning and Engagement, explains: "We are a museum designed for sharing and we have embraced the idea of ​​curating beyond our walls. As a new museum, we turned to technology as a way to really communicate – to deepen or expand the story in ways that make it much more real.
Technology as a focal point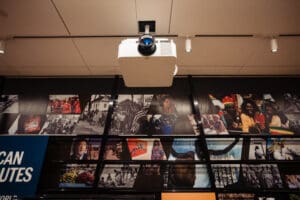 Technology is at the heart of the IAAM visitor experience. Pryor notes: "When someone enters the exhibition space for the first time, they come into contact with the transatlantic experience. I call it this moment of anchoring for the visitor, because what he will see on these eight screens in front of him is this immersive visual and audio experience which gives him a very precise idea of ​​what he will see . as they move through the other exhibits and installations.
The eight massive 6-foot-wide by 7-foot-tall screens that greet IAAM visitors are Sony Crystal LED displays. These displays incorporate features beneficial to a museum, including high brightness, wide viewing angle, and anti-glare panels. Exhibitions also feature rotating content, including a mix of powerful historical and modern images and photographs that highlight and juxtapose the African and African American experience.
Dr. Matthews says, "When you first walk through the doors, you get this wonderful feeling of being surrounded by all these still and moving visual and musical images, because these eight panels serve as a guiding corridor into our gallery of transatlantic experiences. Then you enter the Atlantic World's Gallery which I can assure you has one of the largest screens you've ever seen inside a museum, allowing us to immerse people in images and sounds. This is one of my favorite galleries because it deliberately mixes artifacts and stories from across the African diaspora.
Capturing stories and emotions
In the Atlantic Worlds gallery, Sony's massive 32-by-7-foot Crystal LED with a resolution of 7,680 x 1,620 serves as the centerpiece of the space. It overlooks an exceptional view of the Atlantic Ocean and Gadsden' Wharf, a real port of entry for slaves. In this way, it helps to re-appropriate the complex associations of the place and transform it into a place of empowerment, education, conversation and understanding. As Dr. Matthews explains: "With this power of place comes the power of activation. »
Project manager Bobby Teachey II, who worked with the Solomon Group to install and configure the AV equipment, including the massive Crystal LED displays, describes their impact. "It's incredible technology. When you look very closely at modular cabinets, you will notice that they contain even smaller LED modules. It was amazing to see it all come together and watch the content presented on the screens.
Teachey adds: "The size of the Atlantic World gallery screen and the definition of the graphics will connect people in a different way. And the bright colors and details like sweat dripping from someone's head – there's so much information and such powerful images that visitors will want to stay in front for a long time to take in all the different stories.
He says: "Beyond the images, beyond the display cases, the technology shows older photos, videos or reconstructions, providing a connection point to bring the artifacts to life. »
Deliver transformative experiences
Teachey also talks about Sony's BRAVIA 4K HDR professional displays, more than two dozen of which ranging from 55 inches to 85 inches hang throughout IAAM as digital displays and to enhance exposure. This includes the models featured in the replica of Praise House, a place of worship for slaves.
"How these high-definition screens are used within Praise House has a huge impact," he says. "You're watching a video about them, but you're inside a replica of a very old, solemn building and the technology has a respect and a purpose. It allows you to be transported back, so again, it serves as a transformative piece that connects everyone to these stories.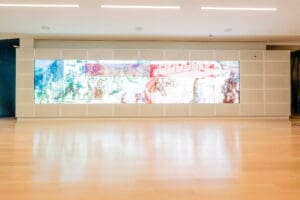 Additionally, IAAM uses Sony projectors, lenses and wireless audio solutions throughout its space. Projectors allow content to be projected, wall-mapped content supported, and images to be shared in rotating exhibits and screening rooms, as well as in the IAAM Family History Center, an important space to trace genealogy and connect the dots of people's past.
Dr. Matthews also recognizes the ability of technology to move IAAM outside of its facilities. She explains: "We also have virtual exhibitions that we launched before opening our physical doors. This allowed membership and interest to grow across the country and around the world. Technology allows us to serve those who cannot physically enter our space, through virtual exhibitions.
Engage with digitally native audiences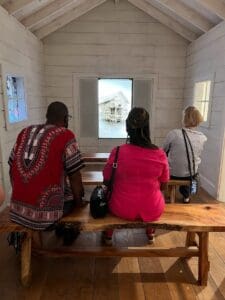 She maintains that Sony's technology allows IAAM to engage with a more digitally savvy audience. "Digital natives have high standards for technology and expect it to do more than just sit there. They expect technology to be used to engage them. They want to be part of a story, they want to generate a story, they want to add something to a story. As a history museum using technology, we are uniquely positioned to be able to do this: interact, share stories, capture stories, receive stories, and build on stories.
Sony's support of the Museum, through the Global Fund for Social Justice, is also seen as instrumental by staff. Dr Matthews says: "For museums and businesses in the not-for-profit sector, what we're trying to do is provide access. We try to offer more than our community alone can support. So it's very important to have business partners who understand this and are just as committed as we are.
She adds: "And I have to salute the partners who are interested in the most difficult stories, who are interested in the impact of good telling of difficult stories and who understand that the reason we share these stories and let's learn this story is not just about yesterday, but it's about today and tomorrow.
Teachey adds: "The fact that Sony is able to step up and provide a lot of the technology and expertise is huge. »
Focus on social justice and diversity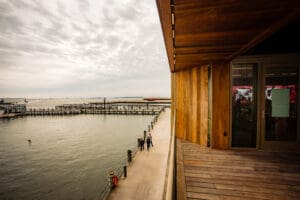 "As part of Sony's ongoing commitment to social justice and diversity, we are proud to support the efforts of the International African American Museum to bring to life the history and important stories of the African-American journey. American and help educate and inspire millions of people to create a more just, equitable and inclusive society," shares Karen Kelso, Vice President, Corporate Social Responsibility and Social Impact, Sony Corporation of America.
Overall, IAAM attendees all agree that their goal is to provide visitors with a way to connect, engage, and develop their understanding of the past to help influence the future, and technology is essential to sharing these stories and bringing them to life.
Pryor does not see the IAAM "as a beginning, middle or end" and recognizes that the museum means different things to different people throughout their quest for knowledge. She continues: "Maybe we're part of someone's beginning. Maybe we help them flesh out their environment. But we never want to be the end.
Dr. Matthews "hopes that visitors will leave the museum more curious than they entered." Likewise, Teachey's desire is that "you leave with something you didn't bring." He adds: "The most important thing is to come away with conversations that help connect, repair, shape and heal. The museum and its technology can bring it all together for visitors.
Click "View Slideshow" for additional images from IAAM.
---
All images courtesy of Sony. Photography by Greg Noire.
If you enjoyed this article and would like to receive more valuable industry content like this, click here to sign up for our digital newsletters!