The owner of the New York City day care center where a 1-year-old boy fell ill and died and three other children fell ill from apparent opioid exposure has been charged by the federal government with having stored medicines above children. play mat.
Grei Mendez, 36, and Carlisto Acevedo Brito, 41, were both charged with conspiracy to distribute drugs resulting in death and possession with intent to distribute drugs resulting in death in the Southern District of New York, according to a complaint released Tuesday.
The complaint, written by a Drug Enforcement Administration agent, alleges they stored drugs in the daycare space.
"Despite the daily presence of children, including infants, the defendants possessed large quantities of fentanyl, including one kilogram of fentanyl stored on the children's play mats," the complaint states, specifying that the drugs were found in the hallway closet.
Additionally, two kilo presses – devices used by drug dealers to package large quantities of drugs – were found in the hallway closet, as well as a third in Brito's bedroom.
The complaint accuses them of conspiring together to distribute fentanyl at the Bronx "Divino Niño" daycare, which saw four children fall ill and led to the death of 1-year-old Nicholas Dominici on Friday.
Mendez and Brito — the cousin of Mendez's husband who rented a room at the daycare — worked together from July to September, according to the complaint.
Mendez's attorney, Andres Manual Aranda, told NBC News on Monday that Mendez did not know drugs were in the building and called 911 when she noticed something was wrong in children.
The complaint reveals that before calling police at 2:40 p.m., Mendez made three other calls: the first to another daycare employee at 2:39 p.m., the second two to an individual she later said was her husband.
His first call went unanswered, the second lasted just over 10 seconds.
After speaking to 911, she called her husband several times.
Several minutes before help arrived, surveillance footage showed her husband enter the daycare empty-handed and emerge two minutes later "with what appeared to be two shopping bags loaded with contents," the complaint states.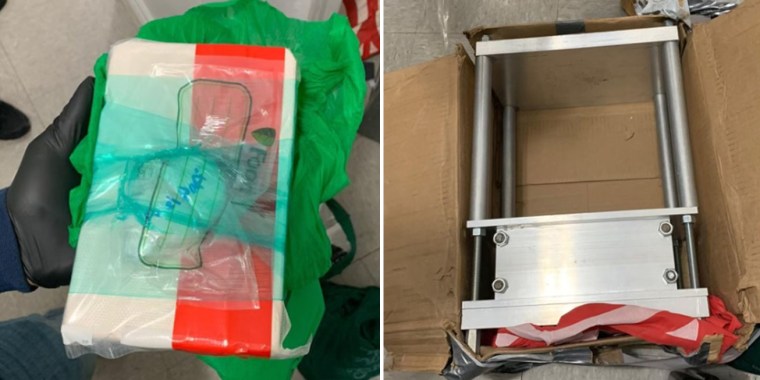 Instead of going out the front door, he went out the back alley.
The law enforcement officer who wrote the complaint called the behavior "an attempt to remove materials from the daycare to avoid detection by law enforcement."
A search of Mendez's phone revealed that she had deleted more than 21,000 messages from an encrypted messaging app, where she exchanged messages with her husband from March 2021 until Friday.
A review of the deleted cryptic messages revealed that Mendez informed her husband that law enforcement was asking questions about him, the complaint states. He told her to tell them he was working and she told him to get a lawyer. She allegedly deleted the messages before law enforcement arrived at the daycare.
An examination of Brito's electronic devices showed that he had exchanged numerous messages with others that "indicate his participation in narcotics trafficking," the complaint states.
Damian Williams, the U.S. attorney for the Southern District of New York, said at a news conference Tuesday that authorities were still searching for Mendez's husband.
Williams said: "It's something we're going to put on the ground. These drugs came from somewhere. We'll make sure we get back to the source.