Five people freed from Iran as part of a controversial prisoner exchange deal with the United States have landed on American soil.
Prisoners were released after President Joe Biden agreed to the release of almost $6 billion (£4.84 billion) in frozen Iranian assets.
Environmentalist Morad Tahbaz – who holds British, American and Iranian nationalities – was released alongside four other US-Iranian dual nationals, including businessmen Siamak Namazi and Emad Sharghi.
They tearfully embraced loved ones during an emotional reunion at a military airfield at Fort Belvoir in Virginia.
Former prisoners also posed for a photo with their families, shouting "freedom!"
Their arrival, in the early hours of Tuesday morning, sparked applause and cheers from those on the ground.
Mr. Namazi, the first to leave the jet, stopped for a moment, closed his eyes and took a deep breath.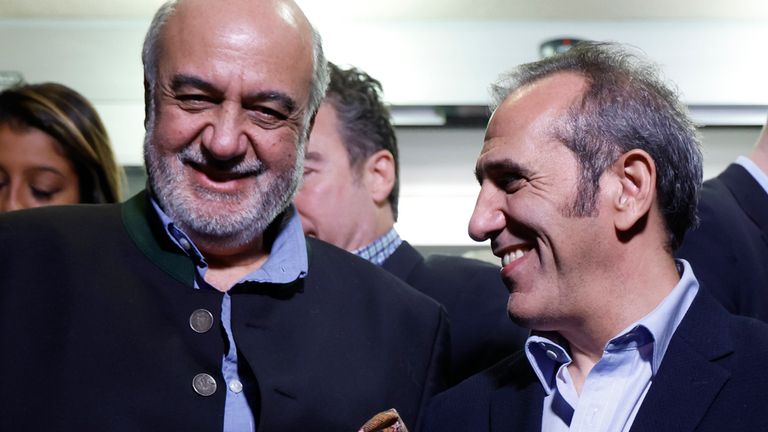 "The nightmare is finally over"
Close friends and family members, some holding small American flags, hugged them and exchanged greetings in English and Farsi, the main language spoken in the country. Iran.
Mr Namazi's brother Babak, who was joined at the airport by his father Baquer, a former detainee in Iran, said: "The nightmare is finally over.
"We haven't had this moment for over eight years," he added. "It's incredible."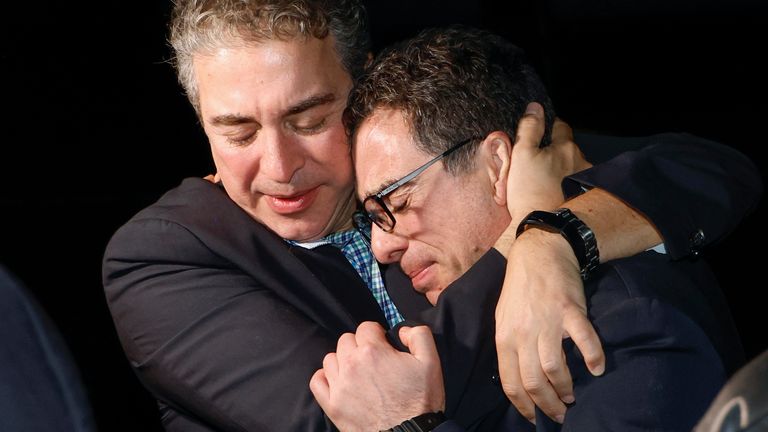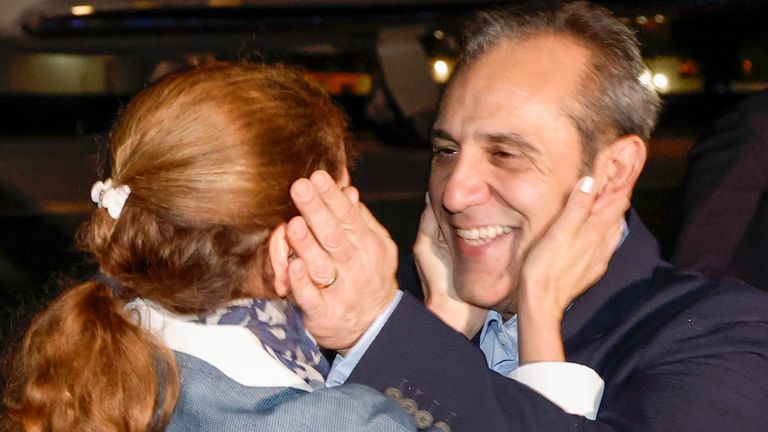 Mr. Sharghi's sister Neda gave him an American flag and a stuffed animal that she had given to their father 30 years ago during bypass surgery, a family representative said.
They were all imprisoned for espionage in Iran's notorious Evin prison, where Nazanin Zaghari-Ratcliffe took place.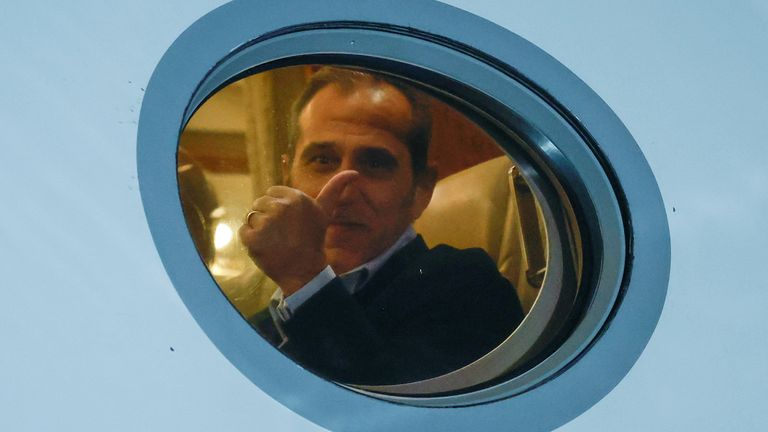 The identities of the fourth and fifth prisoners have not yet been made public.
In a statement released Monday as the plane carrying the group landed in Doha, Qatar, Mr. Biden said: "Today, five innocent Americans imprisoned in Iran are finally returning home."
Iran: released prisoners land in Doha

The deal also includes the release of five Iranian citizens detained in the United States — which the White House says poses no threat to U.S. national security.
Two of the Iranian prisoners will remain in the United States, according to Iranian Foreign Ministry spokesman Nasser Kanaani.
Two other detainees were in Doha for the exchange, according to reports.
One of them was identified as Mehrdad Ansari, who was sentenced to 63 months in prison in 2021 for obtaining material that could be used in missiles, electronic warfare weapons, nuclear weapons and other equipment military.
The second is Reza Sarhangpour Kafrani, who was indicted in 2021 for alleged illegal export of laboratory equipment to Iran.
Learn more:
Prisoner exchange between Iran and the United States represents a delicate diplomatic step
Illegal protesters wage war on the Iranian regime
Click to subscribe to Sky News Daily wherever you get your podcasts
The success of the negotiations earned Mr. Biden the gratitude of the prisoners' families.
However, the deal sparked political controversy with Republican rivals and other opponents over the financial deal with one of the United States' main adversaries.
Critics say the deal helps boost Iran's economy – even as it poses a growing threat to US troops and their Middle East allies – and could negatively impact his re-election campaign.