The heat of early summer and smoke from forest fires in late summer did not dampen optimism for this year's apple harvest.
Local growers and officials from the Washington State Tree Fruit Association say the harvest of early varieties such as Galas and Honeycrisps is a little lighter than in 2019, but surprisingly good given the weather and wildfires.
"For us it's going well… we're actually kind of ahead of the game," said Rob Valicoff of Valicoff Family Farms in Wapato. "Surprisingly, the heat and the weather didn't affect us too much.
Barrett Orchards finished picking Honeycrisps and a few first Fujis before taking a mid-month hiatus, owner Mark Barrett said. Cosmic Crisp and other varieties will then be picked.
In early August, the Washington State Tree Fruit Association predicted a statewide apple harvest in 2021 of just under 125 million 40-pound cans. This represents an increase of 2.3% from the 2020 apple harvest of 122 million boxes, but would be lower than the 2019 harvest of 134.5 million boxes.
Tim Kovis, the association's communications director, said early harvest reports appear to support the 2021 forecast.
"Members told us that the early varieties (Gala, Honeycrisp) are a bit lighter than expected," Kovis said.
"Some years the early varieties are a bit light and the late varieties (such as Red Delicious, Granny Smith and Cosmic Crisp) are a bit heavier. So we'll have to wait and see.
Valicoff echoed Kovis' prediction for later apple varieties, in part because the triple-digit heat of late June and early July occurred earlier in their growing season.
He reported that the early harvested Gala and Honeycrisp varieties were "about 10% light" in his lower valley orchards, but predicted that the harvests of Golden Delicious, Granny Smith and Cosmic Crisp would be about the same as the last year, with the Pink Lady harvest. »Probably a little more.
Sean Gilbert, along with Gilbert Orchards, reckons it is halfway through the harvest, which he says could be smaller due to the temperatures.
"Yields are down on apples, but the quality looks excellent," Gilbert said. The heat "played a role in lowering yields, but cooler temperatures more recently have already helped moderate things."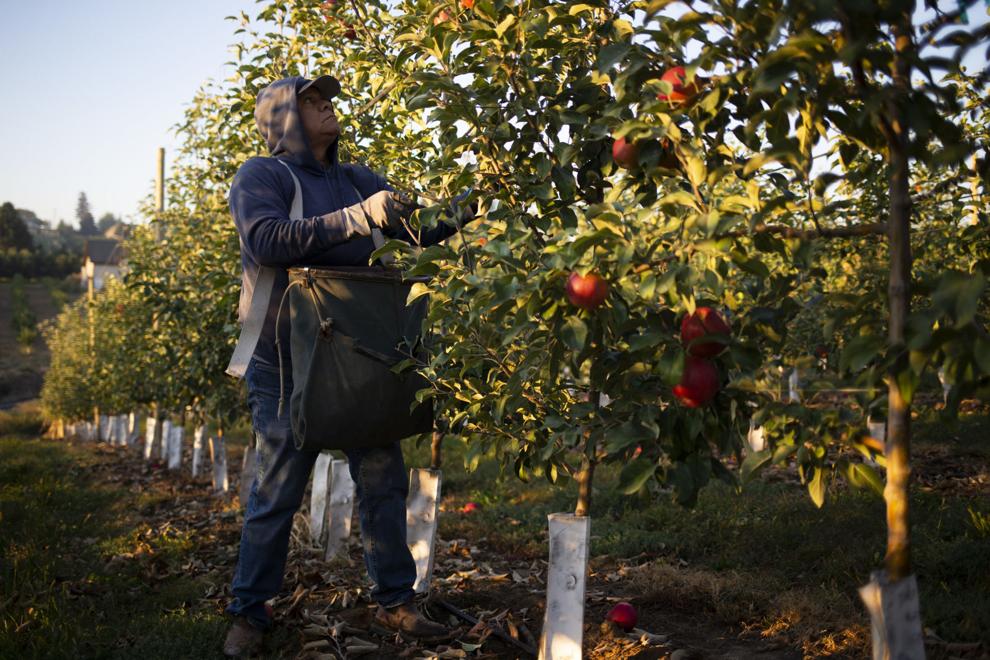 The Fruit Tree Association's forecast was released around the same time the Schneider Springs fire started to burn on August 3, triggered by lightning about 18 miles northwest of Naches. The fire caused weeks of poor air quality, which has improved recently.
The impact of the smoky air on the apple harvest remains to be seen, Kovis said.
"An anecdotal issue we've heard about is that growers who used shade cloth because of the heat might have to remove it because of the smoke," Kovis added. "With the amount of smoke we saw last month and the shade cloth, it's almost two levels of shade."
Whatever effect it had on apples, the smoke from the wildfires and the poor air quality it produced definitely had an impact on his 15 workers, Barrett said.
"The smoke has been pretty harsh on our employees, in terms of being outside," he said. "The (Schneider Springs) fire started right at the start of the fishing season, and we had to fix it."
Poor air quality has forced Barrett Orchards, located just northwest of Yakima, to cut employee hours.
"And we made sure everyone had masks," Barrett said. "They don't like working with masks – it's always been a hard thing to convey to everyone, that it's good for your health."
Valicoff did not require its 180 employees to wear masks, but some brought their own, and Valicoff Family Farms had N95 masks available for workers who wanted to wear them.
"We didn't mandate them… we had a couple days with heavy smoke, but it wasn't as bad here as elsewhere," said Valicoff.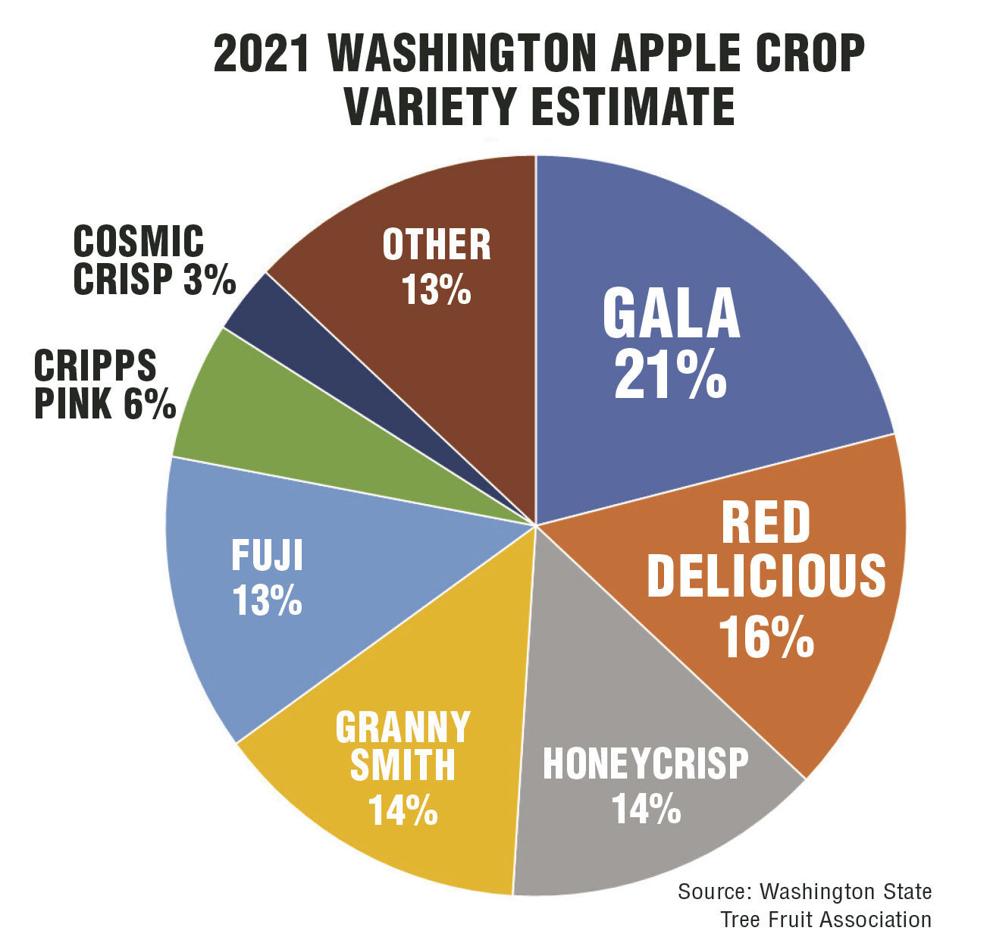 This year's harvest is expected to be led by Galas for the third year in a row, predicts the Fruit Trees Association. Galas are expected to represent 21% of the harvest, followed by Red Delicious (16%), Honeycrisp and Granny Smith (14%) and Fujis (13%).
Cosmic Crisp, a new strain, is expected to account for 3% of the harvest, which would represent a 114% increase from 2020, the association reported.