PARKER COTTON Bozeman Daily Chronicle

BOZEMAN — Coming off a 16-day hiatus between games, the Montana State women's basketball team was challenged right away.
After having three straight games postponed due to COVID-19 protocols, the Bobcats played at home Monday night for the first time since Dec. 21 and for the first time since New Year's Day.
MSU beat an Idaho team that hit a dozen 3-pointers and a fourth quarter that saw a total of 54 points scored to earn a 79-69 win at Worthington Arena.
"It was refreshing to be in uniform and to be able to play a game today," Bobcats head coach Tricia Binford said. "We're still recovering our lungs and legs, but I'm really proud of our efforts overall."
The game marked the return of guard Darian White, who missed the team's Jan. 1 loss to Idaho State due to COVID-19 protocols. She said she began feeling symptomatic on New Year's Eve, the day after scoring a career-high 29 points in a loss at Weber State. She reported shortness of breath, feeling "very tired" and suffering from body aches.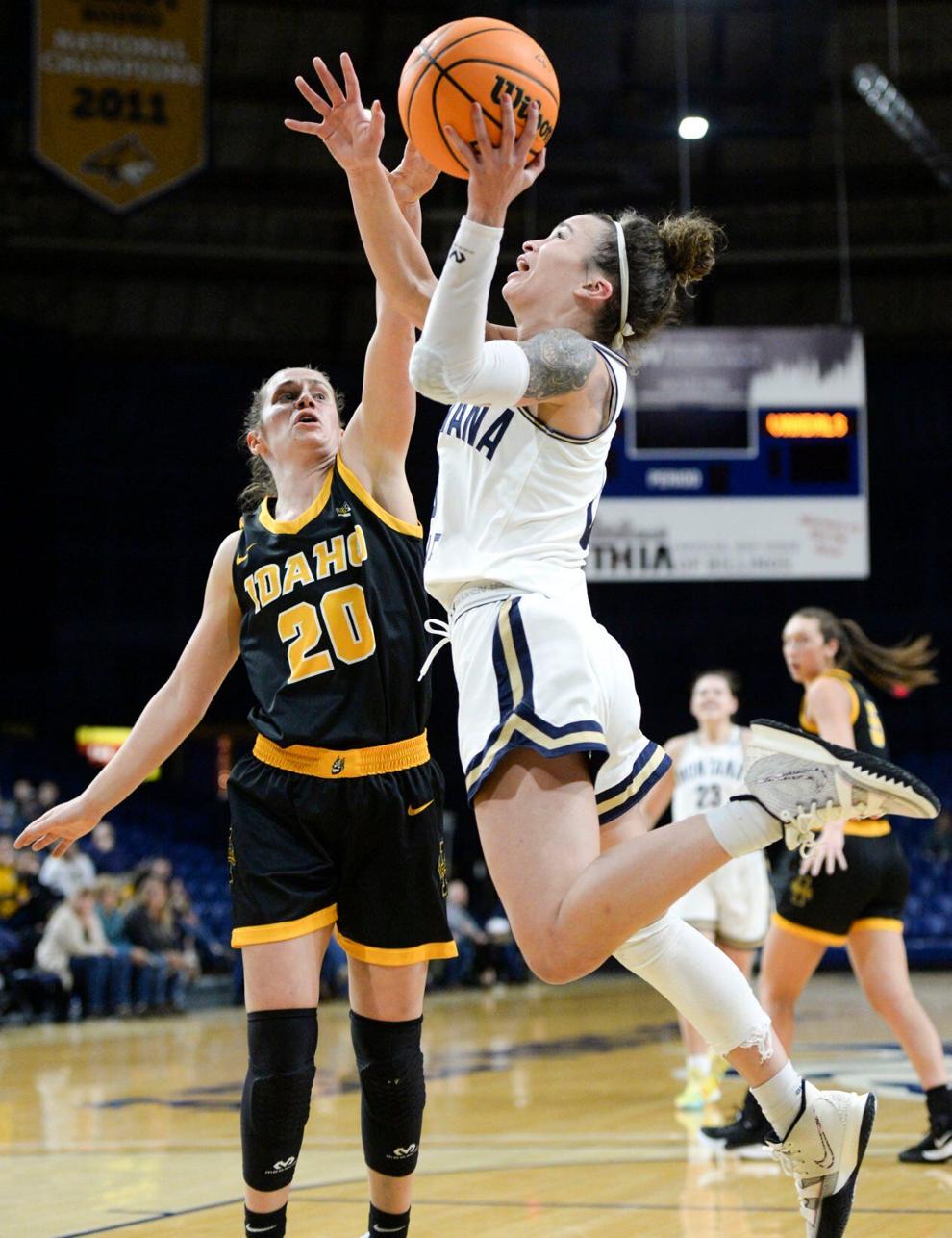 White later tested positive and MSU had to postpone games against Idaho and Montana until later in the first week of January due to ensuing protocols. A third game against Southern Utah, scheduled for Saturday, was also postponed due to COVID-19 concerns within the Thunderbirds program.
Against Idaho in the rescheduled game, White looked like herself as she finished with a game-high 21 points on 7 of 16 shooting. She added four assists, four rebounds one steal and a 7-of-9 performance from the foul line in nearly 35 minutes of play.
"Today was a bit tough on the lungs, but I think it was a really good break that I had on the body," said White. "The biggest difficulty I had was my lungs, but it wasn't too bad. I feel like we were well prepared.
The Bobcats (8-8, 3-2 Big Sky) led for more than 39 minutes of the game, trailing just 27 seconds late in the first quarter. Still, the Vandals (3-12, 2-4) made it difficult for MSU to retire for good.
A 3-pointer from Sydney Gandy of Idaho cut the Bobcats lead to 40-37 midway through the third quarter. During a media timeout shortly after, Binford asked his team for more ball pressure defensively. The Bobcats responded to that request and, on the other side, made a more concerted effort to get touches in the paint.
Coming out of timeout, White split a pair of free throws, but the Bobcats clawed back the rebound. MSU then scored down the hall on three straight possessions — two buckets from Kola Bad Bear and one from Taylor Janssen — to create some separation. Katelynn Limardo capped off what was ultimately a 12-5 run late in the quarter with a drive along the baseline for a layup and, later, a 3-pointer.
MSU finished with 36 points in the paint, 26 in the second half.
"The ball in the paint was really a priority at half time, exactly what we need to do in transition," Binford said. "It's the kids who react and are really intentional with this component. Ball pressure was something that really concerned us when we went to the other end. Idaho had a lot of great looks there, and with no pressure, they got pace, then they got hot, and they certainly got hot tonight.
MSU led 52-42 for three quarters and never led by less than six points in the fourth quarter.
Idaho shot 9 of 15 in the fourth, including four 3-pointers, to stay within reach. Montana State tied the Vandals' 27 points in the fourth quarter with 27 of their own to keep them at bay.
"It felt like we were going back and forth, trading buckets," said Janssen, who finished with 12 points. "I think at the end when we're able to slow down a bit and use the clock to our advantage, that's when we were able to hold on and finish the game."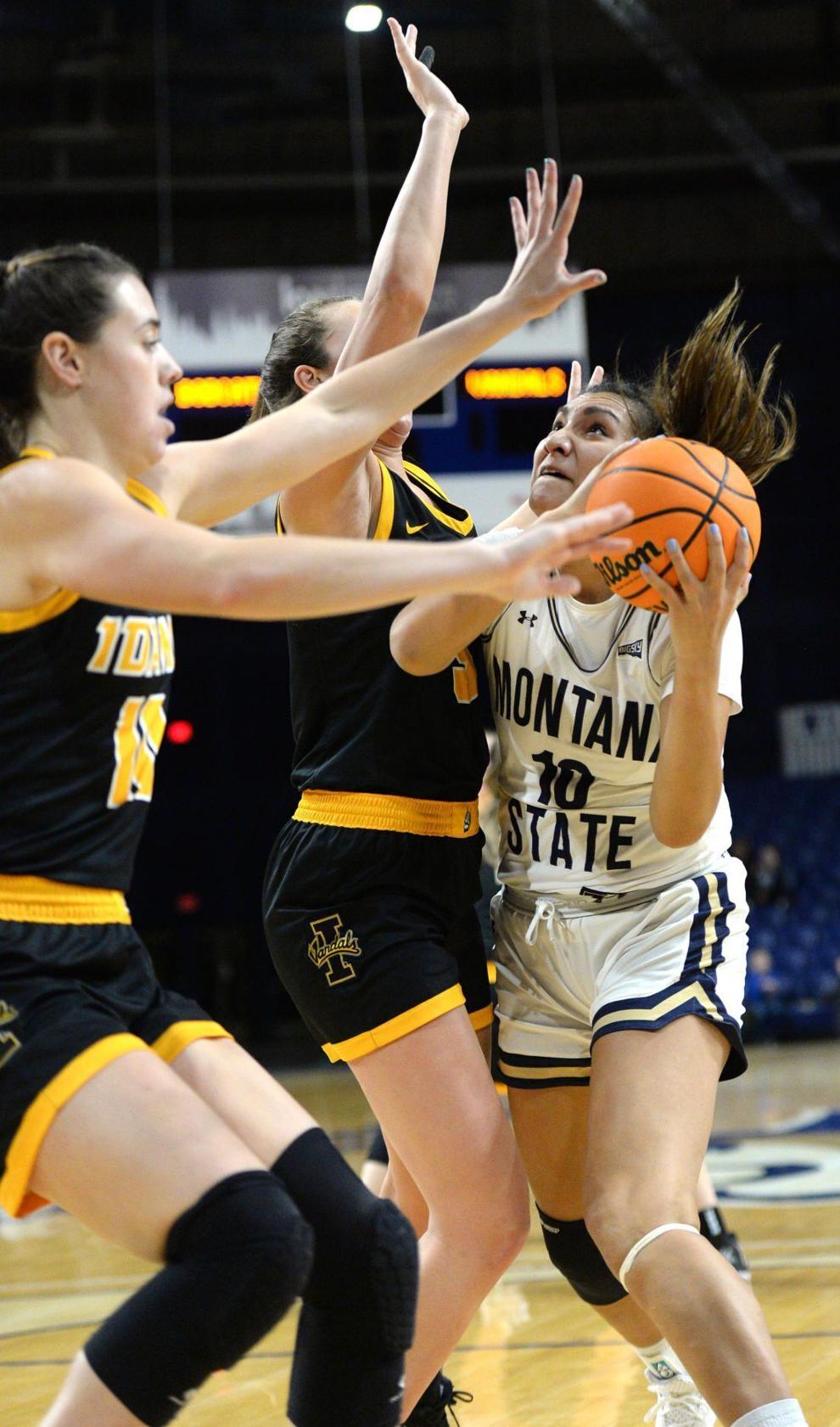 MSU started the game hot, opening a 12-3 lead behind four 3-pointers — two from Gabby Mocchi and one from Limardo and Janssen. The Bobcats led 22-18 after the first.
The second quarter was a two-way offensive struggle, as the teams shot a combined 9 of 27. Janssen did most of his damage in the first half, scoring 10 of his points, and MSU led 36 -28.
In the second half, Bad Bear scored all of his 13 points. She added four rebounds and two assists. Mocchi finished with nine points and six boards. Limardo contributed eight points and nine rebounds. Leia Beattie also had seven points and four rebounds.
Idaho was voted by the media and coaches at Big Sky in the preseason to finish third in the league, but the Vandals had a tough first two and a half months of the season. They were led Monday by 15 points from Louise Forsyth and a double-double of 15 points and 12 rebounds from Beyonce Bea. Gandy had 14 points and Allison Kirby had 13.
Binford compared Idaho's start to the season to MSU's in that both teams lost players in the offseason and then scheduled tough non-conference games.
"A bit of a roller coaster, like us, in terms of setting up their identity," Binford said. "But I really think they're starting to click in a lot of ways."
Parker Cotton can be reached at [email protected] or 406-582-2670. Follow him on Twitter @ByParkerCotton.